How to Help during the COVID-19 Pandemic
Updated August 17, 2021
---
Food Distribution at Tam
San Francisco Marin Food Bank is providing a weekly grocery bag to all community members in need of food at Mt. Tamalpais United Methodist Church every Friday in front of the church from 9:45am to 11:00am (or until bags run out). No need to sign up—120 bags of food will be packed and ready to go. For other food resources, click on this link or go to https://www.marinhhs.org/resources/Food/Food-Pantries.

---
Bandanas for the Homeless
Church of Our Saviour is now collecting bandanas for those struggling with homelessness to use as masks. You can drop off bandanas (clean only, please!) in the bin behind the church sign outside the Fireside Room entrance at any time. Maggie Lang will gather up our offerings and prepare them for delivery at St. Vincent de Paul's in San Rafael, or other agencies working to alleviate homelessness at this time.

Thanks to Maggie Lang for lining up this work!
---
Sign up to make Brown Bag Lunches for those in Need in Marin!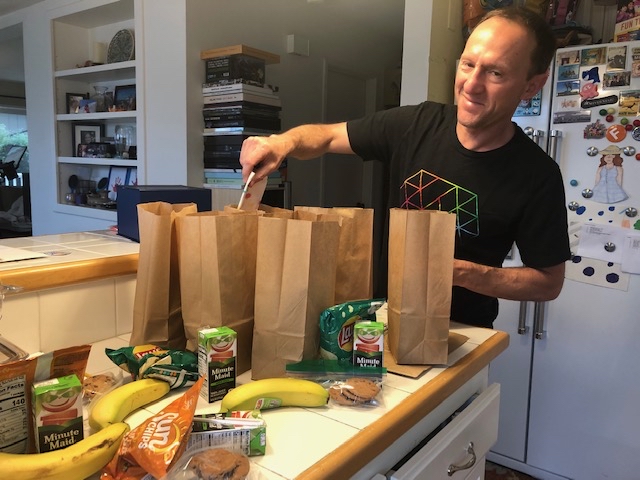 St. Vincent de Paul's Free Dining Room in San Rafael is still closed, but they are distributing brown bag lunches to anyone in need who comes by and also to homeless people who have been sheltered in local hotels and motels.

In place of our monthly hot lunch at Mt Carmel, parishioners from Church of Our Saviour will be volunteering to make 10 brown bag lunches on Tuesdays for this effort. You can make the lunches at home and either drop them off at church at the appointed time or request a pick up from your home. Upcoming drop-off for Tuesdays, August 4th, 11th, and 18th, is at 9 am.  More detailed instructions will be sent to volunteers in time for grocery shopping! Lunches include a sandwich (PB&J or meat/cheese), fruit, chips, and small dessert.  

Sign up AT THIS LINK to volunteer. 

Questions? Contact Tiana Wimmer. 
---
Donate to the Discretionary Fund
Since the pandemic began, the Church of Our Saviour Discretionary Fund has assisted over 75 individuals and families with:
$15,500 in essential grocery assistance
$3,500 in rental assistance
$2,000 in essential transportation assistance
$2,000 in essential utilities assistance
To donate to help with this ongoing assistance, send a check to Church of Our Saviour, marked "For the discretionary fund" or donate online here.
Episcopal Impact Fund, the outreach arm of the Diocese of California, is responding to the current crisis by making emergency funding available. Every church in the Diocese, including Church of Our Saviour has received $1,000 in discretionary funding to be used as quickly as possible to help individuals and programs meet basic needs.

Episcopal Impact Fund has created a Rapid Response Fund for available for church and community programs to help them meet the current need. To learn more about Episcopal Impact Fund and its work, visit episcopalimpact.org.
---
Help deliver Groceries and Household Essentials
Our members and neighbors who cannot leave home at this time may need a delivery of essential groceries and household supplies. Email Brother Richard Edward to be a part of the delivery team!
---
now.help
Parishioner Amy Wilson has helped establish a networking resource, now.help, for local individuals, businesses, and people willing to help.
What is it?
‍Now.Help provides a location-based database of available help and local businesses that will is filterable, searchable, sortable, and favorite-able. You will see help offers from your zip code and/or neighborhood, and local businesses in your county.

How does it work?
Every person/business who joins will have a private account.
‍Volunteers register as helpers in their local neighborhoods.

Volunteer help offers are displayed as 'Help Cards,' in the app. They describe the specific services that are offered and the rough location.

When you find a Help Card that matches your need, you click "Request Help." Then, after confirming the request, an email is sent to the volunteer Helper. After the Helper receives the request, they reach out to you directly to coordinate. You will not see the Helper's email address until they email you. The Helper will see your email address, but will not know your location until you tell them.

Learn more about now.help here.
---
Library Book Information
Joan Peck, who works at the San Rafael Public Library, has sent us the following information about getting books during the Shelter in Place:

You can request actual books and audio books for free from Amazon through the Zip Program. It is a wonderful thing. Here is the link:

https://srpubliclibrary.org/booklovers/zip-books/

People should go to their home library website to apply for Zip Books. I believe all public libraries in Marin are offering this service.

If they need help they can go to the San Rafael Public Library website and initiate a live chat with staff working from home. Website:

https://srpubliclibrary.org
---
The City of Mill Valley Information
Mill Valley offers a wealth of local information on services, ways to help, and basic information about the pandemic here +.
Calendar
---
Sunday
December 5th
Eucharist in person
8:00 am

Sunday
December 5th
Godly Play and Faith Quest
9:45 am

Sunday
December 5th
Eucharist & Spiritual Communion in person & by Zoom
10:00 am

Sunday
December 5th
Altar Guild Meeting
11:30 am
Leppo Room
Sunday
December 5th
Costume Fitting & First Rehearsal for Christmas Pageant
11:30 am

Sunday
December 12th
Eucharist in person
8:00 am

Sunday
December 12th
Godly Play and Faith Quest
9:45 am

Sunday
December 12th
Eucharist & Spiritual Communion in person & by Zoom
10:00 am

---
---