About the Rector:
The Rev. Br.
Richard Edward Helmer, BSG
---
Contact the Rector at .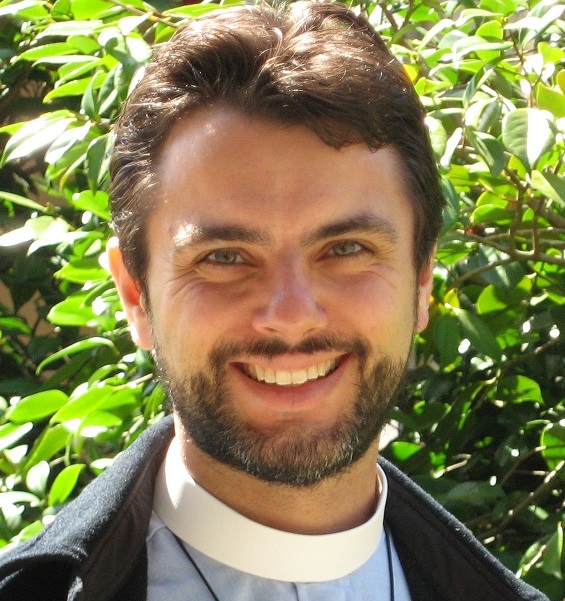 Br. Richard Edward, a recognized pastoral presence and spiritual leader around Mill Valley and wider Marin County, is now entering his seventeenth year as Rector at Church of Our Saviour. In that time, he has worked with a lively staff and committed volunteer leadership to build up a parish community engaged in service to the wider world, offering healing and spiritual support to all people, and cultivating a curiosity about faith in Christ and walking with the Spirit across the generations.
In the San Francisco Bay Area, he has been invited to speak at Interfaith events and retreats on Christian vocation and spirituality, his sermons have been published in Sermons that Work, his reflections have been published by the Episcopal Journal & Café, and he cultivates lively discussions about the intersections of faith, spirituality, culture, and society on Facebook. You can find his most recent sermon podcasts here or on iTunes, and listen to some of his teaching through the parish's occasional educational podcast, A Word from the Edge.
Sustaining his spiritual and vocational life, Br. Richard Edward is a professed member of the Brotherhood of Saint Gregory, a religious community of The Episcopal Church and Anglican Communion devoted to service to God's people and in keeping a common rule of prayer and witness suited for an apostolic life — a religious life lived out in the world, rather than in a monastery or cloister. Br. Richard Edward develops and manages the community's website and its free service to the wider church: The Daily Office App online.
Ordained to the priesthood in 2002, Richard Edward served previously as Vicar of Christ Episcopal Church — Sei Ko Kai, San Francisco. Having worked in a wide variety of church councils and community organizations concerned with ministry and social justice, he remains active in the ministry and governance of the wider Episcopal Church. He is presently Secretary of the Convention for the Diocese of California and a Deputy to the 81st General Convention, the Church's highest governing body.
Richard Edward grew up in central Kansas, the son of an Episcopal priest and a technical writer. He pursued chemistry and music as an undergraduate, graduating in 1997 from the University of North Carolina, Greensboro, summa cum laude with a Bachelor of Music degree in piano performance. He also furthered his musical studies at Northwestern University and the Aspen Music Festival. In 1999, after answering a call to ordained ministry, he attended the Church Divinity School of the Pacific, Berkeley, where he was honored with an Excellence in Ministry Scholarship. Following his ordination in the Diocese of West Missouri, he began his ministry in the Episcopal Diocese of California.
In addition to his vocations in religious and parish life, Richard Edward performs at the piano regularly in chamber and solo venues locally and collaborates regularly in musical events of the community.
He lives with his family in Corte Madera.

Video by John Chavez, created for the TamHigh Core Project
Calendar
---
Sunday
December 3rd
8 am Holy Eucharist
8:00 am

Sunday
December 3rd
9:45 Godly Play & Faith Quest
9:45 am

Sunday
December 3rd
10 am Holy Eucharist by Zoom and in Person
10:00 am

Wednesday
December 6th
Holy Eucharist followed by Bible Study
10:30 am

Wednesday
December 6th
Vestry Meeting
6:30 pm
Fireside Room
Sunday
December 10th
8 am Holy Eucharist
8:00 am

Sunday
December 10th
9:45 Godly Play & Faith Quest
9:45 am

Sunday
December 10th
10 am Holy Eucharist by Zoom and in Person
10:00 am

---
---